The evidence basis needed for developing screening policies and implementing screening programmes, including established programmes such as breast and cervix and those currently in development, being piloted or subject to major research activity
Health Technology Assessment
Health technology assessment (HTA) uses evidence to promote health and prevent and treat disease.  HTA includes the implication of heath technology to improve health outcomes.  It asks whether technology provides benefits for the population and if it presents value for money.
The evidence basis for screening is whether early detection is beneficial, and if persons identified with early-state disease detected through screening have better health outcomes than those who come to clinical attention without screening. It is not enough to know that a screening test actually identifies early diseases or conditions at a specific point of disease development. There must also be an effective intervention, which itself must be scientifically assessed.
The evidence to support or refute particular screening programmes is often limited.  This may be because of the complexity of the screening issue, or the rarity of the conditions being screened for.  The best evidence for screening comes from randomised controlled trials (or meta-analysis of RCTs).  The UK NSC then assesses this evidence against the criteria for appraising the viability, effectiveness and appropriateness of a screening programme (see "Evaluating screening programmes").
UK NSC
The UK NSC reviews evidence for screening in the following circumstances (https://www.gov.uk/government/publications/uk-nsc-evidence-review-process/uk-nsc-evidence-review-process):
A regular review when the current recommendation is not to offer population screening is due
A regular review when the current recommendation is to offer population screening
When new evidence is published which brings into question a current recommendation on screening
When a proposal is made to modify, or make big changes to, a current screening programme
When a proposal for a new topic which has not been previously reviewed by the UK NSC is submitted.
Figure 3.9.1 below shows the overall UK NSC evidence review process.  The aim of the process is to ensure that each topic is addressed in a proportionate manner and to provide reassurance to stakeholders that decisions are grounded in, and informed by, up to date evidence.
Figure 3.9.1: Overall UK NSC evidence review process (https://www.gov.uk/government/publications/uk-nsc-evidence-review-process/uk-nsc-evidence-review-process)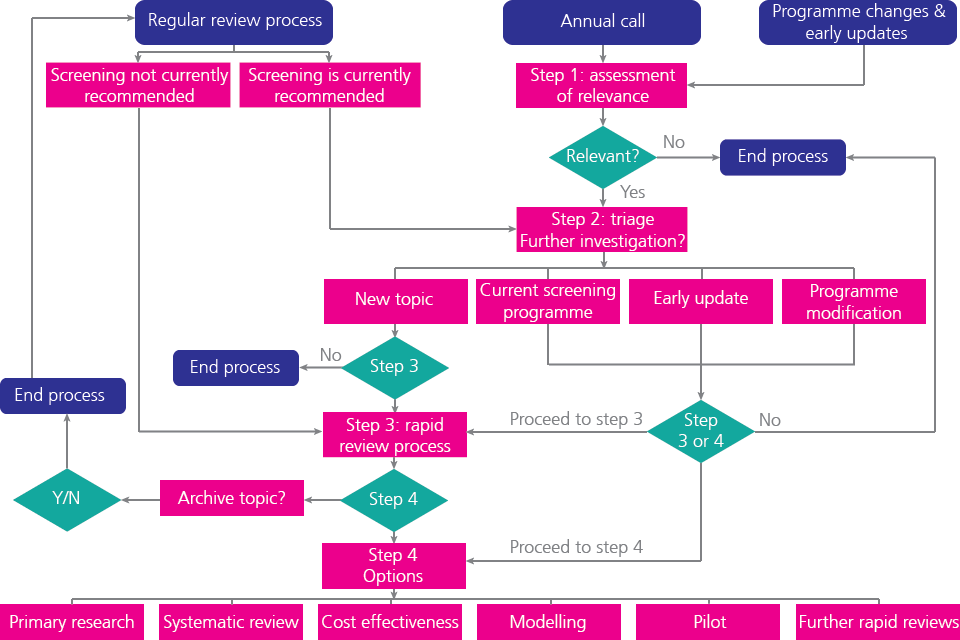 Overall UK NSC evidence review process
Table 3.9.2 SCREENING TESTS THAT CAN BE HARMFUL
Screening test

Proposed benefits

Potential harms

Whole-body computerised tomography (CT)

To rule-out undiagnosed diseases

High radiation dose

Unlikely to prevent disease

Whole-body magnetic resonance imaging (MRI)

To rule-out undiagnosed diseases

No radiation dose, but raised chance of false alarms of nodules in lung, cysts in liver, etc.

Exercise electrocardiogram (ECG)

Screening for heart problems

Benefit is limited to only some people with heart disease, but not for healthy people

Prostate Specific Antigen (PSA)

Early detection of prostate cancer

Many false alarms due to benign tumours, leading to unnecessary and potentially harmful medical procedures. No evidence that mortality is reduced.

Mammography under 50 years old

Early detection of breast cancer

False alarms in low prevalence population
Source: Adapted from Types of Screening that can do more harm than good, Angel Raffle (2006)
Current UK NSC recommendations: Screening programmes under review in the UK 
Please see this link for a database showing an up to date list of the current UK NSC recommendations: http://legacy.screening.nhs.uk/screening-recommendations.php
Reference Materials
Current UK National Screening Committee Recommendations 2016 http://legacy.screening.nhs.uk/screening-recommendations.php
Oortwijn W, David Banta H and Cranovsky R. Introduction: mass screening, health technology assessment, and health policy in some European countries
International Journal of Technology Assessment in Health Care. 2001:17;269-274
                  © Dr Murad Ruf and Dr Oliver Morgan 2008, Dr Kelly Mackenzie 2017