Public Health Genetics Unit
The Public Health Genetics Unit (PHGU), Cambridge, UK.
Authors: Dr Alison Stewart (Chief Knowledge Officer)
Dr Philippa Brice (Science Policy and Dissemination Manager)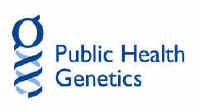 The Public Health Genetics Unit was established in Cambridge in 1997 with local NHS funding for five years. In 2002 further funding from the genetics knowledge park programme secured PHGU's future until March 2007 and enabled the Unit to expand its multidisciplinary team, which now includes specialists in public health genetics, education, policy development, law and ethics, epidemiology and knowledge management. The team works on projects that support development of public policy on genetics and health; development and evaluation of genetics services; communication and stakeholder engagement; promotion of genetics literacy for health professionals and provision of education and training, especially in public health genetics.
Specialist registrar training placements in public health genetics
PHGU in partnership with the Department of Medical Genetics, University of Cambridge, offers a training programme within the Eastern Deanery Public Health Training Programme for senior trainees in public health who wish to gain expertise in Public Health Genetics. Trainees are based at PHGU in the Strangeways Research Laboratory, Cambridge and are supervised by a Consultant in Public Health. The placement includes time in the Addenbrooke's Medical Genetics Department under the supervision of a Consultant in Medical Genetics.
Further details at www.phgu.org.uk
Contact email: phgu@srl.cam.ac.uk