Section 2. The Role of Informal Carers in Community Care
Health Care: Section 2. The Role of Informal Carers in Community Care
The Department of Health has reported that there were an estimated 1.72 million clients receiving services (following assessment) that were provided, purchased, or supported by CSSRs (Councils with Social Services Responsibilities) at some point during the year 2004/2005 (no increase on the previous year). Of this total, 1.47 million clients (85% of all clients) received community-based services following assessment, and 250,000 clients received residential-based services following assessment (NHS:2005 - see Figure 7). However, this is not the whole picture of care provided for people with chronic illness, and other disabilities outside the hospital. An important distinction needs to be between care that is provided in the community (carried-out by the Health and Social Services), and care by the community or informal care. The latter is care provided primarily on the basis of  kinship obligations between members of the immediate family.
The realities of community care policy have meant that the latter form of care provision remains predominant. The average number of contact hours with clients (368,400 of the 1.4 million in receipt of all community-based services) receiving home care provided by health and social care professionals rose to 9.5 hours per week in 2004 from 7.0 hours in 2000. This clearly means that informal carers continue to provide the bulk of the support required by clients   n.b  'Home Care' is defined as those services which assist the client to function as independently as possible and/or continue to live in their own home. Services may involve routine household tasks within or outside the home, personal care of the client or respite care in support of the client's regular carers. It excludes services other community-based services such as day care, meals, transport and equipment (NHS:2005).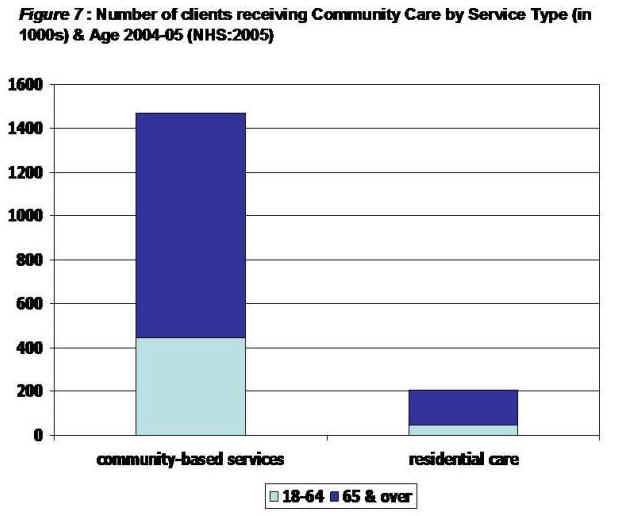 Background to the introduction of the system of Community Care
The 1990 Community Care Act, which came into operation in April 1993, was promoted by the then Conservative government as a `revolution in social care'. The stated aim of the policy was to help priority groups such as the dependent elderly, people with physical and learning disabilities, people with long-term mental health problems, live as independently as possible, either in their own homes or in residential care. The idea of shifting care for these groups, away from what has generally been recognised as `inappropriate' institutional care towards providing care in the `community' was not a new concept. The principles of community care having long been accepted by governments of both main political parties. But as Malin points out: ' The history of community care policy (up to this time) could be described as a patchwork of broken  promises  and moral posturing' (1994:3).
Under the Community Care Act, Local Authority social services departments (SSD`s) have the role of `commissioners' of care services, providing some services themselves, and purchasing others from the private and voluntary sectors. The local authority as both purchaser & provider of care. SSD`s and PCT's jointly plan assessment strategies for a local area, and produce an annual `Community Care plan'. They devise discharge policies for anyone leaving hospital and in need of care in the community. The Act required that patients in need of community care were not be discharged until that care was available. This one provision was subsequently to have a significant impact in compounding the so-called `bed-blocking' problem. One of the other significant changes was to place the identification of need at the centre of management and service delivery processes. A 'needs assessment' is carried out by a `case manager', but users of the service and their carers are in principle directly involved in the process of needs assessment.
Informal carers : Survey and  2001 Census Findings:
It was not until 1985 that the first large-scale survey of informal carers was carried out by the government (OPCS:1988). Up until that time, most research had focused on the needs of those requiring some form of physical or social care, whilst the role of their carers had received relatively little treatment. This survey revealed that 14% of the population over 16 were ' looking after , or providing some regular service for someone who was sick, elderly or handicapped.'. Subsequently in 1997, the ONS carried out a much larger survey of informal carers which was published within the General Household Survey (ONS:1998). The findings broadly replicated the previous studies, in that one adult in eight was found to be providing informal care, and that one in six households contained a carer (estimated 5.7 million carers overall in the U.K).
However, it is was recognised that much more reliable information was required regarding the numbers of specific caring activities, and so a question was included in the 2001 census to address this continuing shortfall in knowledge. The 2001 census (ONS:2003) found that there were 5.2 million unpaid carers (1 in 10 of the population of England & Wales) of which :
68 % (3.56 million) provide care for up to 19 hours per week

11%  (0.57 million) provide care for 20 to 49 hours per week

21%  (1.09 million) provide care for 50 or more hours per week
Policy Assumptions regarding the role of Informal Carers
The policy of community care makes a number of explicit normative assumptions about where the responsibilities for care lie. Some of these assumptions are discussed below:
The relationship between the responsibilities of the State and the Family:

'Community care' for the vast majority of those who require care in their own homes, has always meant the `informal care' given to them by their family members. The introduction of the C.C Act however did address for the first time the issue of who actually performed these caring tasks. There is now an acknowledgement by government of its responsibility to provide, through local authorities, domiciliary services, respite care and day care as supplements to family care. Nevertheless, until the development of the 'Carers Strategy' in 2000 (see below), there was very little acknowledgement of these requirements in practice, even though the existing legislation was quite explicit about defining the role/responsibilities of networks of family and friends in providing care, particularly for the dependent elderly.
 

A changing role for the family?

There is a commonly expressed and essentially moralistic view that the problem of meeting the needs of dependent groups in the community arises because we no longer care for our family members in the way that occurred automatically in the past. This view is predicated on an assumption that the role and function of the family has dramatically changed over the last hundred years. The main change being a shift from the `extended family' taking responsibility for the care of its sick and elderly members, to the `nuclear family' of the mid-twentieth century, which had many of these caring functions taken-over by systems of state welfare. This however is a simplistic reading of the history of the family. It ignores the fact that the major change in the twentieth century was not a shift towards the nuclear family household group, but an absolute decline in the size of families, and a greater geographical dispersion of households containing related people. Crucially, the demographic shift towards people living longer has resulted in an increase in the number of dependent elderly people. Interestingly, as long ago as 1911, 5% of the elderly population were in some type of institutional care, today that proportion is virtually identical (although absolute numbers are very much higher).

Caring as 'Womens Work'

Tied in with the expectation that families would take responsibility for providing care is a general assumptions about the role and responsibilities of women in society. The assumption that women are expected to undertake the major role in caring for dependants (including pre-school children, children with disabilities, parents and husbands with disabling illnesses, etc), in many ways remains in many areas of government health and social policy-making. However, as Marian Barnes (1998) points out, demographic changes, shifts in employment patterns, as well as changes in what are perceived to be acceptable divisions of labour between men and women, have meant that the availability of female family members continuing to take on this role in the future cannot be confidently assumed.

Culture & Caring:

There has been a tendency by policy makers to assume that caring for dependent relatives is not a `problem' within ethnic minority communities. This reflects a stereotypical assumption regarding the existence of the extended family (particularly as regards Asians), which does not reflect the reality of the situation, and can manifest itself in inequity in formal care service provision.
The Needs of Carers:  Legislation and Guidance   
Whilst informal care carried out by lay carers may reduce the financial cost to the State, the costs both to the person being cared for, and to the carer themselves are considerable. Caring can impose a heavy financial (despite state allowances), physical and psychological strain on carers. The carer may have had to give-up their own career (unpaid care remains undervalued in society), because it is difficult to combine the demands of paid employment with caring responsibilities). Other outside interests may have had to be curtailed in order to meet the needs of the person with the chronic illness. The physical labour involved in meeting the activities of daily living for a relatively immobile person are considerable and are particularly demanding for a carer who are likely to be elderly themselves. This can potentially lead to health problems for the carer.
Many caring relationships are reciprocal, but tensions in what were pre-existing relationships can arise from the changes in role brought about by the dependency of the recipient of care. Thus individuals who are now physically dependent on their partner for example, may feel frustration and anger with their condition which they cannot express, in ways that may be possible with a formal / professional carer. In the case of those caring for family members who have a mental health problem, relationships can be strained not just because of the pressure of caring in itself, but because of the ways in which the carers may find themselves stigmatised (by association) because they are seen in some way to be responsible for bringing about the mental health problem in the first place.
In April 1996, the then Conservative government introduced the Carers (Recognition and Services) Act. This piece of legislation represented the first real official recognition of the  role of carers and their needs, and reflected the pivotal role played by informal carers within the new community care policy. This legislation gave carers (although only those caring for more than 20 hours per week) the right to request an assessment of their own needs (155,000 such assessments were carried out in 1999). Nevertheless, the provision of services to all those carers deemed as being in need was never fully implemented. In February 1999, the Labour government published its national strategy for Carers entitled Caring about Carers (HMG:1999). This strategy document represented the outcome of a long consultative process which was introduced as a `new, substantial policy package that marks a decisive change from what has gone before'. The strategy document sets out a number of policy objectives as follows: 
That whilst valuing unpaid care, carers should be supported in combining paid employment with their caring responsibilities (preventing social exclusion), and to this end, employers will be persuaded of the benefits of having a carer-friendly employment policy.

That carers should be informed and consulted about professional decision-making concerning those they care for.

Health professionals to be encouraged to consider the health of carers as part of their responsibilities.

Enhancing the support provided to carers, particularly in the form of improvements and adaptations to housing, training for carers (especially Health & Safety ), and the provision of regular breaks from caring (a £140 million ring-fenced fund for the next three years to be set-up and available to local authorities).
Liz Lloyd in a critical assessment of the Carers Strategy concluded on a positive note by arguing that overall :  " There is innovative and creative thinking in this strategy. It promotes the view of carers as a diverse and widespread group and emphasizes the point that we are all implicated in the way we care for each other " (2000:148).
The Carers and Disabled Children Act 2000, which was introduced a year after the publication of the carers strategy was aimed at formally strengthening the rights of carers of disabled children to having an assessment of their needs as carers. It gave local councils more powers to directly support carers; in particular it introduced a voucher scheme for carers to have short term breaks.
The Carers (Equal Opportunities) Act received Royal Assent in July 2004, and began as a Private Members Bill supported by the lobby group for carers, Carers UK. The Act itself built on the existing carer's legislation to ensure that all carers now know that they are entitled to an assessment of their needs. Many carers remained unaware of their rights despite the hype surrounding the introduction of the carer's strategy. The Act also placed a duty on councils to consider a carers outside interests (work, study or leisure) when carrying out an assessment, and aims to promote better joint working between councils and the health service to ensure support for carers is delivered in a coherent manner.
Clause 2 (Assessment of carers) of the 2004 Act expanded assessments under the 1996 and 2000 Acts by requiring councils to consider the carers wishes to work, undertake any education, training or leisure activities. Carers will now have the opportunity to discuss alternative care services and highlight the importance of equality of opportunity for all aspects of life. Whilst Clause 3 (Co-operation between authorities) of the Act makes provision for consideration of carers in the planning process, as well as providing a specific duty to consider assistance in relation to individual carers.  It will promote joint working by requiring bodies, including councils and the NHS, to give due consideration to requests for help from a local authority in relation to planning and the provision of services that might assist individual carers to care and to continue to care. 
Around 194,000 carers received a carers assessment or review in the 6 month period Oct 2004 -Mar 2005. Following the review or assessment 74% received a service, of these 45% received 'carer specific services' and 55% received information only (NHS:2005).
© I Crinson 2007