Introduction to study designs - geographical studies
Introduction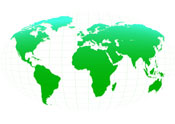 Learning objectives: You will learn about basic concepts of geographical studies also known as ecological/correlation studies.
Geographical studies are one of the earliest forms of logical reasoning applied to science. This branch has evolved to systematically measure disease occurrence by time, place and person.
Read the resource text below which looks at types of geographical studies along with their strengths and weaknesses.
Resource text
Types of geographical studies are as follows
Descriptive studies
Correlation studies
Health surveillance
Studies of disease clustering
Health intervention studies
Descriptive studies
An example of this kind of study would be examining variations in health status between populations.
Correlation studies
These look at correlations between variables. For example, a study may investigate the body shape of a group of patients. In doing this it might correlate the height and weight of a number of people. One would expect that as people got taller so they would be heavier. Therein lies the correlation.
Health surveillance
There is more than one definition for health surveillance. Under one definition it is thought to comprise those strategies and methods to detect and systematically record the adverse effects of work on the health of workers. Secondly, it has been used to include systematic assessments of fitness for work, and/or of health status that is not directly related to occupation.
Disease cluster
This is a geographical region where an above average percentage of the population has, or has had, a particular disease.
Strengths and weaknesses
It is important to consider the strengths and weaknesses of Geographical studies. These are listed below.
Strengths
Cheap and simple to conduct.
Utilize routinely collected health statistics.
Exposure data often only available at area level.
Differences in exposure between areas may be bigger than at the individual level.
Utilize geographical information systems to examine spatial framework of disease and exposure.
Generate hypotheses to examine at the individual level.
Weaknesses
Measures of exposure are only a proxy based on the average in the population. Caution needed when applying grouped results to the individual level (ecological fallacy - the ecological fallacy is a widely recognized error in the interpretation of statistical data in an ecological study, whereby inferences about the nature of individuals are based solely upon aggregate statistics collected for the group to which those individuals belong. This fallacy assumes that all members of a group exhibit characteristics of the group at large).
Potential for systematic differences between areas in recording disease frequency. For example, there may be differences in disease coding and classification, or in diagnosis and completeness of reporting.
Potential for systematic differences between areas in the measurement of exposures.
Lack of available data on confounding factors.
References
1. Hennekens CH & Buring JE. Epidemiology in Medicine, Little Brown & Company, 1987.
2. Farmer R and Lawrenson R. Lecture Notes: Epidemiology and Public Health Medicine (Fifth edition), 2004.
3. Barker DJP and Rose GR. Epidemiology in Medical Practice, Churchhill Livingstone, Edinburgh, 1990.
Related links