Definitions:
Stakeholder is a person who has something to gain or lose through the outcomes of a planning process, programme or project (Dialogue by Design, 2008).
Stakeholder Engagement is the process of effectively eliciting stakeholders' views on their relationship with the organisation/programme/project (Friedman and Miles, 2006).
Stakeholder Analysis is a technique used to identify and assess the influence and importance of key people, groups of people, or organisations that may significantly impact the success of your activity or project (Friedman and Miles 2006).
Stakeholder Management is essentially stakeholder relationship management as it is the relationship and not the actual stakeholder groups that are managed (Friedman and Miles, 2006).
As public participation becomes increasingly embedded in national and international public health policy, it becomes ever more crucial for decision-makers to understand who is affected by the decisions and actions they take, and who has the power to influence their outcome: the stakeholders. The stakeholder concept has achieved widespread popularity among academics, policy-makers, the media and corporate managers. Within the field of strategic management the stakeholder concept has become firmly embedded. References to
stakeholders are commonplace and the requirement to engage stakeholders in public sector organisational strategy and project design is a key priority in current government policy both within the NHS and local government sectors. Many of these organisations recognise that stakeholder engagement is not about giving the public a list of options to choose from – it's about drawing them in right from the start, so that their views, needs and ideas shape those options and the services that flow from them.
A technique to help identify which individuals or organisations to include in your programme / project is known as a 'stakeholder analysis'. The following stages have been identified to support the stakeholder analysis process:
Identify and map internal and external stakeholders
Assess the nature of each stakeholder's influence and importance
Construct a matrix to identify stakeholder influence and importance
Monitor and manage stakeholder relationships.
Identify and map internal and external stakeholders (and partnerships)
The start of any stakeholder engagement process is stakeholder mapping. Stakeholder mapping identifies the target groups and pulls together as much information as possible about them. 'Stakeholders' are by definition people who have a 'stake' in a situation. Stakeholders can be described in organisation terms as, those who are maybe 'internal' (e.g. employees and management) and those 'external' (e.g. customers, competitors, suppliers, etc.).
However, within the field of public health the development of strategies, programmes and projects may well be undertaken on a cross-boundary, interdisciplinary way.  For example, a local health and well-being strategy may be developed by:
Internal stakeholders who participate in the co-ordination, funding, resourcing and publication of the strategy from a local health and well-being partnership;
External stakeholders who are engaged in contributing their views and experiences in addressing the issues that are important to them as patients, service users, carers and members of the local community.
The following questions are designed to reveal the stakes as well as help to identify the right people to involve in any particular situation.
Who is or will be affected, positively or negatively, by what you are doing or proposing to do?
Who holds official positions relevant to what you are doing?
Who runs organisations with relevant interests?
Who has been involved in any similar situations in the past?
Whose names come up regularly when you are discussing this subject?
The following list of internal and external stakeholders is based on a Public Health Department within an English Local Authority/council:
Internal Stakeholders

External Stakeholders

Director of Public Health
Head of Health Intelligence and Information
Procurement
Director of Nursing
Public Health Strategists
Public Health Management Analyst
Director of Programmes and Services
Research Scientist
Communications
Environmental Health Intelligence Analyst
Public Health Manager
Trustees
Board committee members

Local Authority/council
Providers
Acute trusts
Patients
Service users
Customers
Suppliers
Funders
Quality assessors
LINk group
Special interest groups
Health visitors/school nurses
Wider public health workforce
Media
For those working in a commissioning organisation, the organisations that provide services will be an important group of stakeholders (such as patients and service users), while for those working in an organisation that provides services competitors will be of more significance.
Assess the nature of each stakeholder's influence and importance
It is important to understand that individuals and groups behave differently in different situations. The impact stakeholders can have on organisational policy, strategy, and project is dependent on their relationship to either the organisation itself or the issues of concern, or both. Once a list of possible stakeholders has been created it is necessary to estimate their influence and importance.
Influence and importance is always in relation to the objectives you are seeking to achieve.
Influence
simply refers to how powerful a stakeholder is in terms of influencing direction of the project and outcomes.
Importance
simply refers to those stakeholders whose problems, needs and interests are priority for an organisation. If these important stakeholders are not assessed effectively then the project cannot be deemed a success.
Here are some examples of types of direct influence:
legal hierarchy (command control of budgets)
authority of leadership (charismatic, political)
control of strategic resources (suppliers of services or other inputs)
possession of specialist knowledge
negotiation position (strength in relation to other stakeholders).
Indirect influence may also be achieved through:
social, economic or political in status
varying degrees of organisation and consensus in groups
ability to influence the control of strategic resources significant to the project
informal influence through links with other groups
other stakeholders in assessing their importance to the project issues.
The tables below identify both the sources and indicators of influence that internal and external stakeholders may hold.
Stakeholder Sources of Influence
| | |
| --- | --- |
| Internal Stakeholders | External Stakeholders |
| Hierarchy (formal power) e.g. authority, senior position | Control of strategic resources e.g. materials, labour, money |
| Influence (informal power) e.g. leadership style | Involvement in strategy Implementation e.g. strategic partners in distribution channels |
| Control of strategic resources e.g. responsibility for strategic products | Possession of knowledge and skills e.g. cooperation partners, subcontractors |
| Possession of knowledge and skills e.g. expert knowledge that forms the organisations core competence | Through internal links e.g. networking |
| Control of the environment e.g. negotiation & network of relationships to external stakeholders |   |
| Involvement in strategy implementation e.g. as a change agent or responsibility for strategic projects |   |
Different stakeholders may have commonality of purpose at a very general level (e.g. 'providing quality of services' or 'improving the quality of life for the community') but at more detailed levels they may wish to impose different purposes and priorities on an organisation.
The level of importance, given by an organisation to the stakeholders' needs and interests is also key to the success of strategy and project development. For example, these sources of importance can affect both internal and external stakeholders:
Stakeholder Sources of Importance
Internal Stakeholders

External Stakeholders

Which problems affecting which stakeholders, does the strategy/project seek to address or alleviate?

For which stakeholders does the strategy/project place a priority on meeting their needs, interests and expectations?

Which stakeholders' interests converge most closely with the strategy/project objectives?
Construct a matrix to identify stakeholder influence and importance
One basic tool of stakeholder analysis is the influence/importance matrix. This technique can be used in relation to a particular strategic development (such as the launch or withdrawal of a service).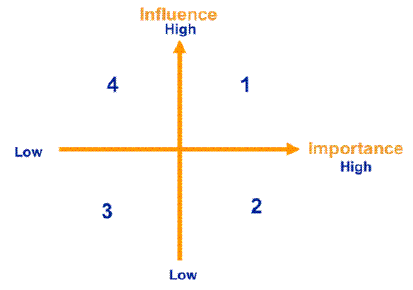 Stakeholders should first be plotted in relation to how they would line up – the level and nature (for or against) of their importance and the extent of their influence. A second map can also be plotted showing how you would need stakeholders to line up if the development were going to have a good chance of success.
By comparing the two maps and looking for the mismatches, priorities for managing stakeholders can be established, as well as priorities for maintaining stakeholders in their current positioning.
Each quadrant can be analysed in the following way. In a clockwise rotation:
Quadrant one: Key stakeholders placed here have high influence and high importance need to be fully engaged on the strategy/project. The style of participation for stakeholders needs to be appropriate for gaining and maintaining their ownership.
Quadrant two: Stakeholders placed here can be highly important but having low influence or direct power, however need to be kept informed through appropriate education and communication.
Quadrant three: Stakeholders here have low influence and low importance and care should be taken to avoid the dangers of unfavourable lobbying and therefore should be closely monitored and kept on board.
Quadrant four: Stakeholders placed here can hold potentially high influence but low importance should be kept satisfied with appropriate approval and perhaps bought in as patrons or supporters.
However, it is important to recognise, that the map is not static. Changing events can mean that stakeholders can move around the map with consequent changes to the list of the most influential stakeholders.
Monitor and manage stakeholder relationships
Stakeholder management is essentially stakeholder relationship management as it is the relationship and not the actual stakeholder groups that are managed. The Clarkson Centre for Business Ethics (in Friedman and Miles 2006:151) developed the following list of principles that summarise the key features of stakeholder management:
Principles of Stakeholder Management
Principle 1

Managers should acknowledge and actively monitor the concerns of all legitimate stakeholders, and should take their interests appropriately
into account in decision-making and operations.

Principle 2

Managers should listen to and openly communicate with stakeholders about their respective concerns and contributions, and about the risks that they assume because of their involvement with the corporation.

Principle 3

Managers should adopt processes and modes of behaviour that are sensitive to the concerns and capabilities of each stakeholder constituency.

Principle 4

Managers should recognise the interdependence of efforts and rewards among stakeholders, and should attempt to achieve a fair distribution of the benefits and burdens of corporate activity among them, taking into account their respective risks and vulnerabilities.

Principle 5

Managers should work cooperatively with other entities, both public and private, to ensure that risks and harms arising from corporate activities are minimised and, where they cannot be avoided, appropriately compensated.

Principle 6

Managers should avoid altogether activities that might jeopardise inalienable human rights (e.g., the right to life) or give rise to risks which, if clearly understood, would be patently unacceptable to relevant stakeholders.

Principle 7

Managers should acknowledge the potential conflicts between (a) their own role as corporate stakeholders, and (b) their legal and moral responsibilities for the interests of stakeholders, and should address such conflicts through open communication, appropriate reporting and incentive systems and, where necessary, third party review.
Friedman and Miles (2006) have developed a model that can be used to identify the style of stakeholder management required based upon Arnstein's ladder of
participation, although their model comprises twelve distinct levels (see attached PDF). [AH1] This model can be used to identify the style of stakeholder management. The lower levels, (manipulation, therapy, informing) relate to situations in which the organisation is merely informing stakeholders about decisions that have already taken place, although these levels represent bad practice if done in isolation. At middle levels, (explaining, placation, consultation, negotiation) stakeholders have the opportunity to voice their concerns prior to a decision being made, but with no assurance that their concerns will impact on the end result. The highest levels, (involvement, collaboration, partnership, delegated power, stakeholder control) are characterised by active or responsive attempts at empowering stakeholders in corporate decision-making. It is likely that different stakeholder groups and the same stakeholder groups at different times will be treated at different levels and these can be affected by stakeholder characteristics, different stages in an organisation's life cycle, different strategies pursued by stakeholders and the different focus and stage of the programme.
                                                                       © S Markwell 2010, N Leigh-Hunt 2016